Kastlunger nativity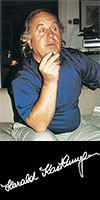 CURRICULUM VITAE OF A GIANT OF FANTASY
Whoever knows Harald Kastlunger merely as an artist among thousands bearing this mostly self-chosen attribute misunderstands him. The art and music critic Gottfried Marsoner called Kastlunger a harlequin of the spirit. Kastlunger is likewise a harlequin in life.
Every human is a prisoner, no matter whether rich or poor: The rich are prisoners of their possessions and their money and the poor are prisoners of their poverty and hardship. The philanderer is a prisoner of his women. And so on. Only those who know how to live in their respective situation are really content. This could be an approximation of Kastlunger's understanding of the philosophy of life. In this context, this artist with the unusual, virtually inexhaustible imagination equates happiness with contentment. He places himself on the side of contentment, which he finds wherever optimism contends with misery and is victorious. Over the years, this man who knows how to guide pen and brush like few others of his guild has achieved an attitude towards life of which many contemporaries can only dream. The secret is called: contentment and selflessness.
Harald Kastlunger was born on 4th. October 1937. He received his schooling in the former cathedral town of Brixen and in the Augustine seminary in Neustift nearby, where he dedicated himself to sacred music for a time, playing cello and violin. In Kufstein in Austria he completed a pastry cook apprenticeship and took the trade examination in Basle, Switzerland. From 1962 to 1974 he thought mainly practical subjects at the secondary and vocational schools in Brixen. In 1974 he took over the running of the parental business, a café and pastry shop in the so-called ,,Pfaundlerhaus" on the Pfarrplatz in Brixen. A 131 year-old tradition - Kastlunger's café and pastry hop - came to an end in 1989. Harald Kastlunger bade farewell to his bourgeois profession and since then has dedicated himself exclusively to art, to painting and sculpture. He leads a life between idea and reality and is permanently in search of that passion in the human which is a driving force from his birth and through which he ultimately attains the true static of happiness. Harald Kastlunger is a Cyclops of the imagination not only in his artistic creation but equally so in his positive outlook on life.
24 carat gold gilding


My crib: I firmly believe that Christmas, feast of the peace, is more than just a moment of magical atmosphere and that is why I make every effort to give my figures a dashing appearance. The spiritual content of my sculpted works is conveyed by the distinctive traits of spontaneity of my characters, by their positive attitude towards earthly life. The exalted state of feeling inspired by the Nativity is suggested by the expressive motions of their hands and by their gestures. Their astonishment and ecstatic frame of mind is meant to come over fresh and vivid, an aim I feel unable to accomplish by traditional means.
The Crib by Kastlunger carved in walnut wood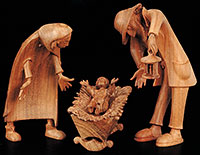 Every single figure of this crib is unique as no piece of wood is equal: unique in its finishing and in the material. The surface marked by changeable veining, knots and different shades of colour is due to the characterises of walnut wood. These apparent imperfections add to the crib's value.