Rustic Nativity
Nr. 10700 with base (3,9 - 4,7 - 6,3 inch)

Nr. 10701 without base (4,7 inch)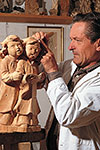 PRUGGER DORIGO VIGIL, born in 1925 in Ortisei / Val Gardena, attended the Val Gardena Art School and is a member of the Accademia Tiberiana and of Artists' Circle of Ortisei. He trained sculptor and has been awarded a gold medal for his exhibitions in Milan (Angelicum), Florence, Bolzano and Ortisei.
The crib tradition does not only concern the oriental crib representation, but also the "Local crib", with its growing artistic and historic importance.
Following the inner need of the crib builder, to represent his own environment and to give cribs a local character, the Lepi firm, in cooperation with its artists, carvers and painters, has created a "Local Crib", with figures in 3,9 – 4,7 – 6,3 inch.
With the "Local Crib", the Lepi Workshops – known as the greatest crib specialists in the Alps – offer you a choice of 11 different cribs, without considering all different sizes, recalling famous old artists and masters like Rupert, Reindl, Giner, etc., with 250 different crib representations, all unique for their artistic value and beauty.